In 2015 Dallas Brooks Community Primary School opened an educational "Makers" room. The educational focus within the room is student voice, inquiry learning and STEM (science, technology, engineering and mathematics).
While working in the room students explored some of the following  –
Little Bits
Animation
Scratch
Makey Makey
Turtle Art
Mindstorms
WeDo
Squishy Circuits
Soft Circuits.
Students were then required to use their new skills and make or invent something of their choice.
Some of our students also had the opportunity to plan and deliver a "Makers" event that consisted of student led workshops. A student committee was formed and planned all aspects of this event.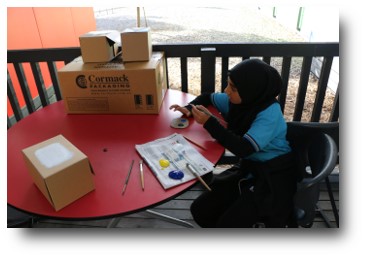 Student Makers Conference 2017 – October 17https://t.co/8UTKupKJ2S @adrianhanson @DallasBrooksCPS @MSAUedu pic.twitter.com/38D6D62B9s

— Troy Waller (@hojusaram) August 28, 2017
How cute! Designed and created in @tinkercad, time to add a touch colour. #steam #stem #art #Penguin #igloo pic.twitter.com/SeylPc8ZCg

— Dallas Brooks CPS (@DallasBrooksCPS) June 21, 2017
Creating some line art with the Probots. Learning about rotation and angles to create art work. #stem #steam #art #mathsisfun pic.twitter.com/2daz5PmUIl

— Dallas Brooks CPS (@DallasBrooksCPS) June 20, 2017
Our student sustainability team work alongside our passionate teachers to foster an environmentally sensitive school culture. On World Environment Day, students organised and facilitated several activities which promoted the core mission; 'Beat Plastic Pollution' and 'if you can't reuse it, refuse it'. The activities included; rubbish collection, mini compost experiments, maintenance of the 'Lizard Lounges', 'Frog Count' and classroom learning tasks in Reading and Mathematics which linked to sustainability.
The school has a strong focus on Inquiry learning, this encourages teachers to incorporate real-world problem solving into each area of the curriculum and leads to extremely powerful learning opportunities for students.
Each learning neighbourhood is responsible for an area of our school yard, this includes the plants, vegetables and garden beds with those areas. The foundation students have access to a fantastic outdoor play area with a series of taps and hoses which pump stored rainwater into different garden beds to nourish the native plants. Within this area, there are deciduous trees which beautifully demonstrate the changing of the seasons and supply some great inspiration for our play-based learning.
Year one and two students are encouraged to play amongst our growing 'forest' plantations. We are working with a local landscape artist to design some recreation spaces which foster imaginative play. Larger plants are nestled amongst native grasses with sand tracks and small paths which encourage students to move through the natural space. Cubby houses and play sheds promote outdoor fun with plenty of toys and tools to be shared.
By the time children enter the middle years program, the learning becomes more explicit. Students investigate was that they can engage with nature to support and promote a healthy environment, they explore the school's frog pond and lizard lounges in an inquiry into life cycles and food webs. The frog pond was designed to take advantage of a small natural reservoir, which is kept moist thanks to some careful planning to redirect the rainwater from a nearby rooftop. Students constantly monitoring and assess the health of the area with classroom sessions outdoors and student leaders who observe the pond regularly. Students are currently doing research into recording sound, motion and moisture levels with some handy digital technologies.
In years five and six, students learn about waste management, recycling and their environmental footprint. Inquiry units continue to emphasise sustainability through renewable energy; making connections between modern lifestyle choices and the impact this can have on the environment. Students assist in tracking the utilities costs of the school, as they prototype ways to isolate this information for each learning space; developing light and temperate sensing tools. Using Micro:Bits and other digital technologies, they collect, collate and map this data over time. Students are passionate about transferring these skills over to the garden beds, in order to record and analyse the moisture content and sunlight levels for each area.